Symbiosis Launches communications campaign for Dublin's favourite Business Park.
The business challenge.
Based on the outskirts of Dublin, EastPoint is home to a vibrant mix of more than 50 multinational and Fortune 500 companies. Set in 40 acres of beautifully landscaped gardens with waterfront walks, cafe's, child care and sports facilities the site really is one of the most vibrant places to base your Business in Dublin.
Although transport links are excellent, Eastpoint is not centrally based prospective clients and employees often prefer to be in the middle of the City.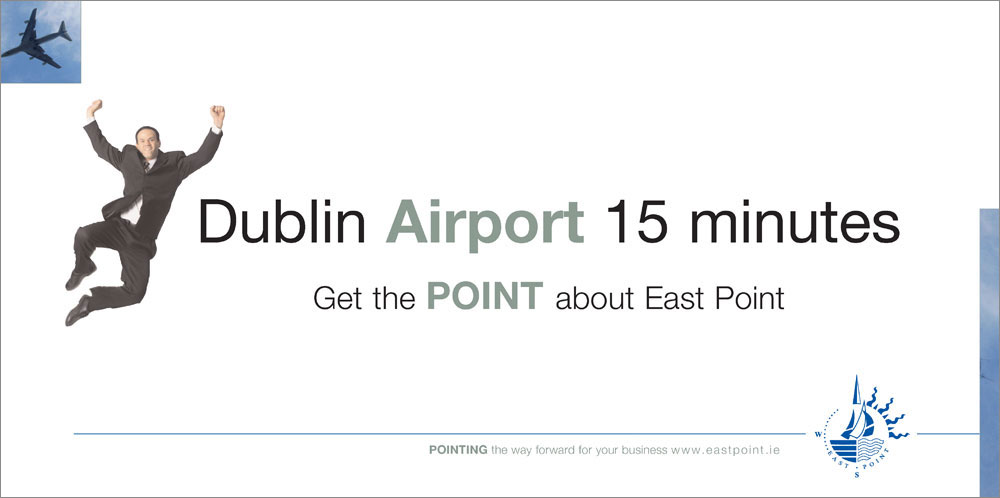 The work involved.
Evaluation and understanding the opportunity from a customers perspective.
Evaluation of the central Dublin alternative.
Develop a communications strategy to deliver Eastpoint benefits.
Selection of suitable media.
Delivery of a campaign of 48 sheet posters in strategic locations.
Advertising in Irish Times.
Literature for agents and for use in response to customer enquiry.
Photography on site and across Dublin.
Value delivered
A cost effective solution.

The creation of communications that made the business park more desirable to prospective clients and employees.

Increased brand profile agains the IFFC in central Dublin, positioning EastPoint as a very viable and more cost effective location.