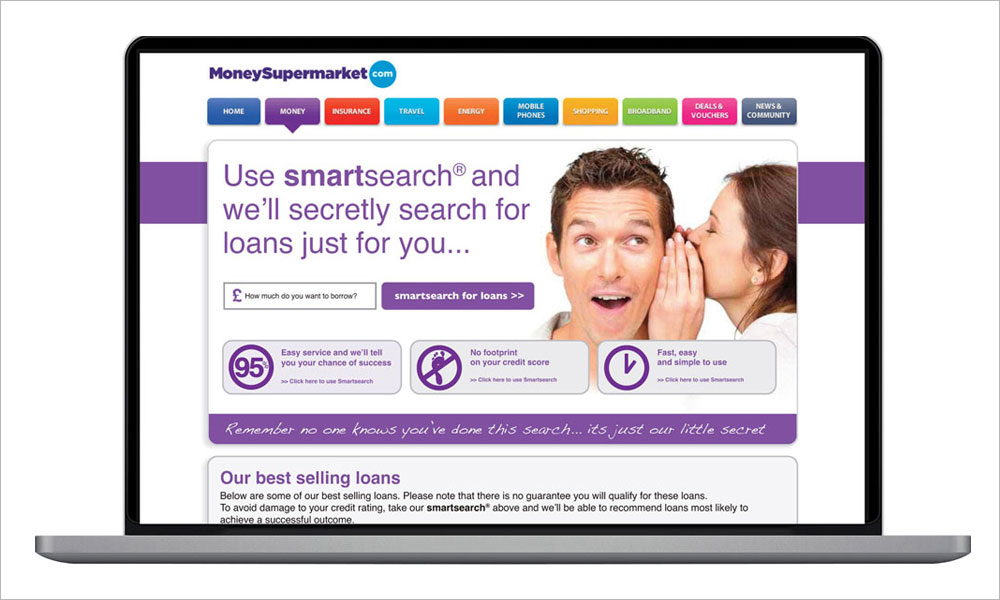 Symbiosis re-designs user experience of Money SuperMarket website to increase value of customer visits.
The business challenge.
MoneySuperMarket is the UK's leading price comparison website representing over 140 car insurance brands, more than 80 home insurance brands, over 60 credit card and personal loan providers, and 40 energy providers. Their mantra is to be easy to use and transparent.
In short – by putting their customers first.
The marketplace is very competitive and the company wanted to maximise their visitor engagement across its loans channel.
The work involved.
Strategic evaluation of the loans channel.
Competitor evaluation.
Developing benefit driven campaign of home page banner advertising for SmartSearch.
Simplification of the application process.
Simplification of the offer communications to customer.
Develop a parallel UX design to sit within the existing brand profile.
Value delivered
Reduction of customer drop-out prior to offer.
Reduction of customer drop-out prior to 3rd party sign up.
Shorter and simpler application process through the introduction of a new graphic interface and trickle down form rather than a endlessly scrolling page.
Introduction of SmartSearch as a USP against competitors.